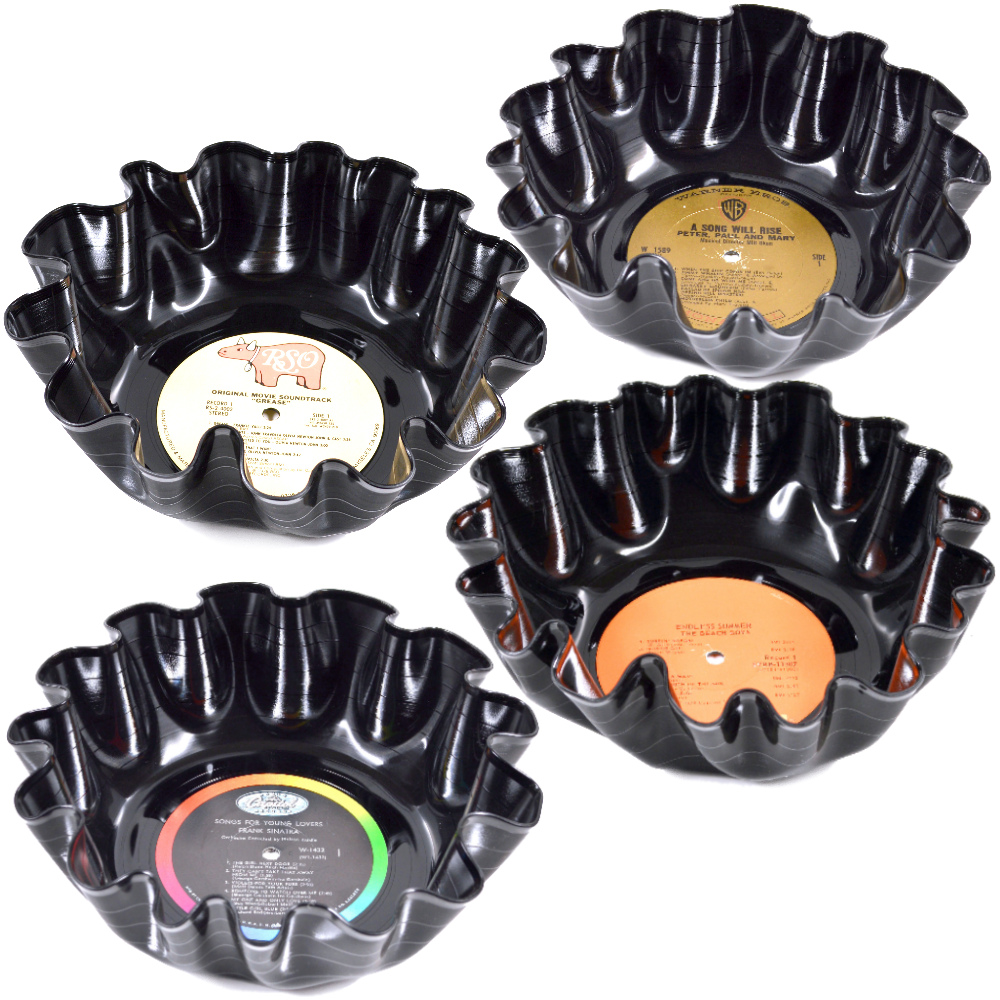 Bowls made from old vinyl record albums!
Great for snack bowls at parties, center pieces, holding keys or jewelry, or just as decoration. Just don't try to hold any liquid in it, as it will just come pouring out the hole in the center.

Shop Bowls
A large selection of bowls are available in our online shop, however since we're constantly making new bowls and can't always keep up with the process of putting each one in the shop, we've created a list for you of ALL the current bowls we have available (see below). To purchase a bowl not in the shop, simply contact us via e-mail or phone.

Custom Orders
Would you like a specific record made into a bowl? Hillary's Handmade accepts custom orders for record bowls!
Simply bring, or ship, her the record you'd like turned into a bowl, and she'll work her magic! Only $8 per bowl.
E-mail Hillary at hillary@hillaryshandmade.com to place a custom order.
Current Record Album Bowls Available:
(Titles in red are $15, all other titles are $10)
**Designates a title not currently available in the online shop
---
Artists:
-30 Great Hits by 30 Great Country Artists
-**America – (America)
-Amy Grant – (My Father's Eyes)
-Amy Grant – (Unguarded) 
-Andy Williams – (Born Free)
-Anne Murray – (Greatest Hits)
-Barbra Streisand – (The Way We Were)
–Benny Goodman – (Greatest Hits) (2 copies)
-**Blackstreet – (Billie Jean/No Diggity)
-Burt Bacharach – (Make it Easy on Yourself)
-**Connie Francis – (Sing Along With)
-Dan Fogelberg – (Nether Lands)
-**Dan Fogelberg – (Nether Lands)
-**Dan Fogelberg – (Phoenix)
-**Dan Fogelberg – (Souvenirs)
-**Dan Fogelberg – (Twin Sons of Different Mothers)
-Dean Martin – (This Time I'm Swingin')
-DeBarge – (Rhythm of the Night)
-Doris Day – (Day by Night)
–Frank Sinatra – (Songs for Young Lovers)
-**Frank Sinatra – (Sinatra Christmas Album)
–Frankie Vallie – (Solo)
-Jimmy Dean – (Greatest Hits)
-Johnny Mathis – (Heavenly)
-Johnny Mathis – (I'll Buy You a Star)
-**Johnny Mathis – (The Sweetheart Tree)
-**Johnny Mathis – (Those Were The Days)
-Kenny Loggins – (Alive) (2 copies)
-**Kenny Rogers – (Eyes That See in the Dark) (2 copies)
-**Kenny Rogers – (Share Your Love)
-**Linda Ronstadt – (Hasten Down The Wind)
-**Linda Ronstadt – (Living in the USA) (2 copies)
-**Linda Ronstadt – (Mad Love)
-Motion Picture Classics – (2 copies)
-**Neil Diamond – (Love at the Greek)
-Pat Boone – (with Orchestra)
-Perry Como – (Dream Along with Me)
-Peter Nero – (The First Time Ever (I Saw Your Face)
-Peter, Paul and Mary – (A Song Will Rise)
-**Peter, Paul and Mary – (Peter, Paul and Mary) (2 copies)
-The Partridge Family – (Up To Date)
-The Police – (Ghost in the Machine)
–The Scramblers – (Little Honda)
-**Tom Waits – (Closing Time)
-Tony Bennett – (I Left My Heart in San Francisco) (2 copies)
-**Village People – (Village People)
Disney:
-**Pinocchio
-**Swiss Family Robinson
-**The Little Engine That Could
Other:
-Cinderella
-**Cocktail (Movie Soundtrack)
-**Easy Rider (Movie Soundtrack)
-Robin Hood
-**Saturday Night Fever
-Scheherazade – (Ballet Suite)
-**Sesame Street
-Swan Lake & The Sleeping Beauty (Symphonic Suite)
-The 3 Musketeers
-The Nutcracker
-Thumbalina & The Ugly Duckling
Musicals:
-A Chorus Line (2 copies)
-**A Funny Thing Happened on the
Way to the Forum
-**Anne of Green Gables
-Annie
-Annie Get Your Gun
-Brigadoon
-**Brigadoon
-**Camelot
-Carousel
-**Cindy-Ella
-Fiddler on the Roof
-Give My Regards to Broadway
(Andre Previn & his Trio)
-How to Succeed in Business
Without Really Trying
-**Jesus Christ Superstar (2 discs)
-Kiss Me, Kate
-**Kiss Me, Kate
-Man of La Mancha (2 copies)
-Marry Poppins
-**Nunsense
-Oklahoma!
-Oliver
-**On A Clear Day You Can See
Forever
-Other Voices, Erroll Garner –
(orchestra under Mitch Miller)
-**Parade
-**Pippin
-**Showboat
-South Pacific (2 copies)
-The Sound of Music
-**The Sound of Music
-**The Threepenny Opera
-West Side Story

---
**Designates a title not currently available in the online shop.
To purchase a bowl not in the shop, simply contact us via e-mail or phone.
(We're constantly making new bowls and can't always keep up with putting each new bowl in the shop)