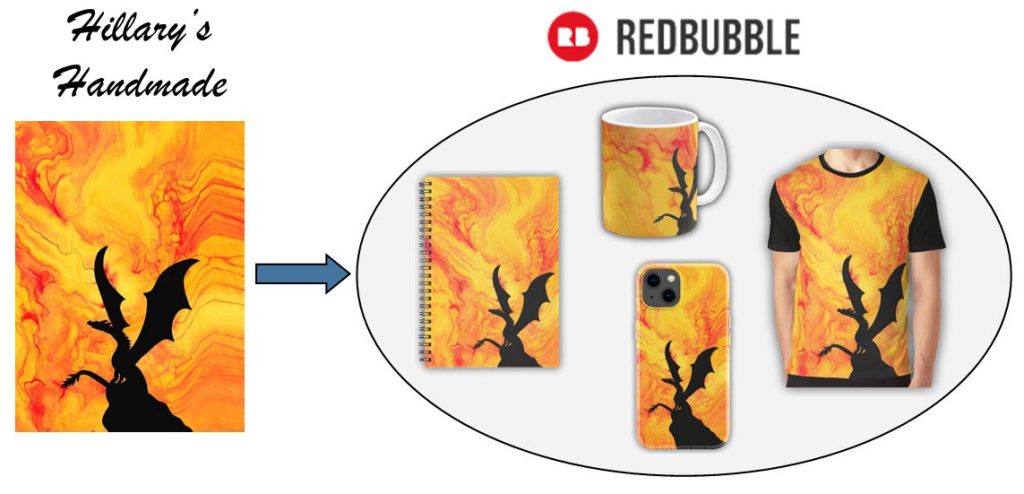 What is Redbubble? It's a Print-On-Demand store (like CafePress) that lets artists upload their designs and have them printed on a wide range of products such as clothing, housewares, tech accessories, prints, stationery, stickers, and more! For each item that is sold, the artist gets a commission of the sale. So it's a great way to spruce up your entire life or find unique gifts for your friends and family, all while supporting a small local business.
Hillary currently has a handful of her acrylic pour paintings posted on her Redbubble shop, and she adds more as she goes! If you have a specific painting of Hillary's that you've seen that you'd like her to upload to Redbubble, feel free to send her a message! All Hillary's designs look great on every product!
To visit the Hillary's Handmade Redbubble shop, and see what all the hype is about at, visit:
www.redbubble.com/people/HandmadeHill/shop
The images posted here are just a small sampling of what's available!
---
Tips for finding products on Redbubble:
Once you're in my shop, there are 2 main ways to search for products. You can shop by product type, or by designs.

Searching by product type will allow you to pick out the type of item you want first, for example a t-shirt, and then it will show you all the designs that are offered on that t-shirt.
-To search by product type, simply look to the far left of the screen (once you are in my shop), and find the item you'd like in "Filters" and "Category" drop down menus.

Searching by design will allow you to pick out the design you want first, and then you'll be able to see what products that design can be printed on, and what it will look like on those products.
-To search by design look for the "Explore designs" text/tab (once you are in my shop), which can be found beneath my profile image. This will show you all the designs I currently have posted.
-Or, to see specific types of designs only, instead of hitting the "Explore designs" text/tab, leave it on the "Shop products" text/tab and you will see "Collections" directly under that. Collections show only certain types of designs. For example, you can look at the Animals collection if you only want to see designs I have posted that involve animals.


Redbubble FAQs:
To Find Redbubble's Entire FAQ Section, including a search feature, click here:
https://help.redbubble.com/hc/en-us

To find out more about how Redbubble works, click here:
https://help.redbubble.com/hc/en-us/articles/201247349-How-does-Redbubble-work-

To see sizing information for clothing, click here (it will start you on the sizing for "Active T-Shirts", but on the left you can find sizing guides for every type of clothing item sold):
https://help.redbubble.com/hc/en-us/articles/360043727812-Active-T-Shirt-Sizing

To see shipping information, click here:
https://help.redbubble.com/hc/en-us/articles/206683443-How-are-shipping